Soroptimist International of the Conejo's 2017 Live Your Dream Award Recipient:  Kristina Fitz
The Live Your Dream Awards program (formerly Women's Opportunity Award) is Soroptimist's signature program. The Live Your Dream program assists women who provide the primary source of financial support for their families by giving them the resources they need to improve their education, skills, and employment prospects.  It is given each year to a woman, head of household, who shows determination to improve her life and that of her family through vocational or traditional training or education.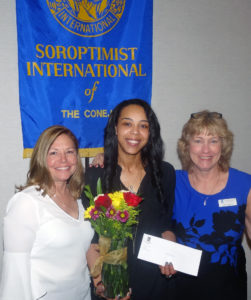 "Empowerment  means to me helping young people to reach  their  potential in life through  peer support and community networks. Exhibiting signs of self leadership that you have the  power to change the outcomes of your situation. By building a network of support through programs like mentorship and training to achieve the highest level of success. When you're in a position of influence, being able to lift as we climb to help others transition to the  next steps in their successful path."  Kristina Fitz
Ms. Kristina Fitz, a survivor of the commercial sex industry works closely with a variety of selected young ladies and adult woman offering one-on-one mentorship to those currently in judicial system, etc., and also residing at home. Prior to her involvement into "The Life", she was a certified compounding pharmacy technician out of Beverly Hills, California, where she worked for 3 years. The level of expertise provided by Ms. Fitz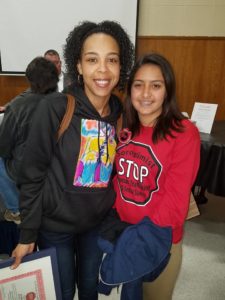 includes gives mental support and guidance to the girls and woman reaching them at the individual stage of matur­ing in their lives.
In addition, Ms. Fitz participates in the education and training of local community partners with Commercially Sexually Exploited Children CSEC Information including excursions to speaking engagements at various events within the Los Angeles area effectively bringing awareness to the population of today's youth and woman. Ms. Fitz currently works by facilitating "Word on the Street" prevention and "Ending the Game" intervention peer support groups for Journey Out at various locations within the community, as needed. Kristina has also been featured on NPR radio discussing issues human trafficking in Los Angeles.   Ms. Fitz is working towards her Bachelor's Degree in communication with the goal of becoming a speech and language pathologist therapist for children.
We were proud to honor Kristina at our club's Live Your Dream Award Program on April 18, 2017, accompanied by her mother and grandmother.
She was also in attendance at the Spring Conference Live Your Dream Brunch where they acknowledged award recipients from all of the Camino Real Region clubs.