Soroptimist of the Conejo club Offers Cash Grant to Women Seeking Financial Assistance for Educational or Training Expenses
Application deadline is January 15, 2018
Help spread awareness about the Soroptimist Live Your Dream: Education & Training Awards for Women!   Do you know of any women who are striving to improve their lives through additional training or education?
The Live Your Dream program assists women who provide the primary source of financial support for their families by giving them the resources they need to improve their education, skills, and employment prospects.  It is given each year to a woman, head of household, who shows determination to improve her life and that of her family through vocational or traditional training or education.
Soroptimist International of the Conejo is accepting applications from women who meet the eligibility requirements to be considered for a $750 to $1500 cash award.  The awards are cash grants for head-of-household women who are the primary financial supporters of their families and who are enrolled in education or training programs.
You are eligible to apply if you are:
A woman with primary financial responsibility for yourself and your dependents
Attending an undergraduate degree program or a vocational skills training program
Have financial need
Recipients may use the cash award to offset any costs associated with their efforts to attain higher education, including books, childcare and transportation. This program provides cash grants to women who are working to better their lives through additional schooling and skills training.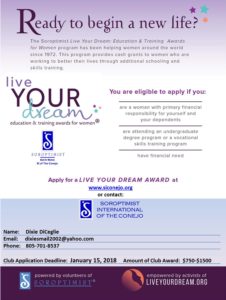 To begin, open the Live Your Dream Awards writeable application and reference form.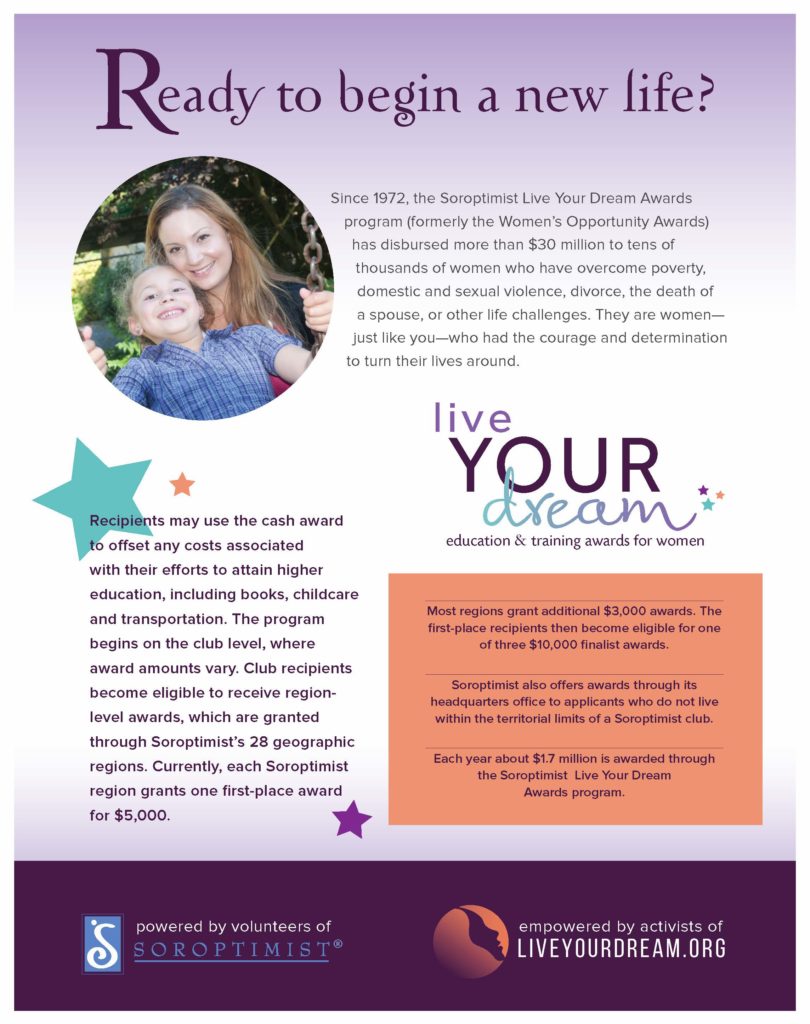 Two References are required.
Download Reference Form HERE.
The full eligibility requirements are available by clicking on this attachment.
Please contact Dixie DiCeglie if you have questions or would like to request an application by mail.  
She can be reached at 805-701-8537 or by email at: dixiesmail2002@yahoo.com.
Since 1972, the Soroptimist Live Your Dream Awards program (formerly the Women's Opportunity Awards) has disbursed more than $25 million to tens of thousands of women who have overcome poverty, domestic and sexual violence, divorce, the death of a spouse, or other life challenges. They are women who had the courage and determination to turn their lives around.
The Soroptimist Mission is: "To improve the lives of women and girls through programs leading to social and economic empowerment."