Soroptimist International of the Conejo invites you to join in the fun on Thursday, July 13th for the 16th Annual Margarita Mixoff & More!  The event will be held on Thursday, July 13, 2017, from 5:30 pm – 8:00 pm at The Gardens at Los Robles Greens, 299 South Moorpark Road, Thousand Oaks.  Download the Flyer – click HERE.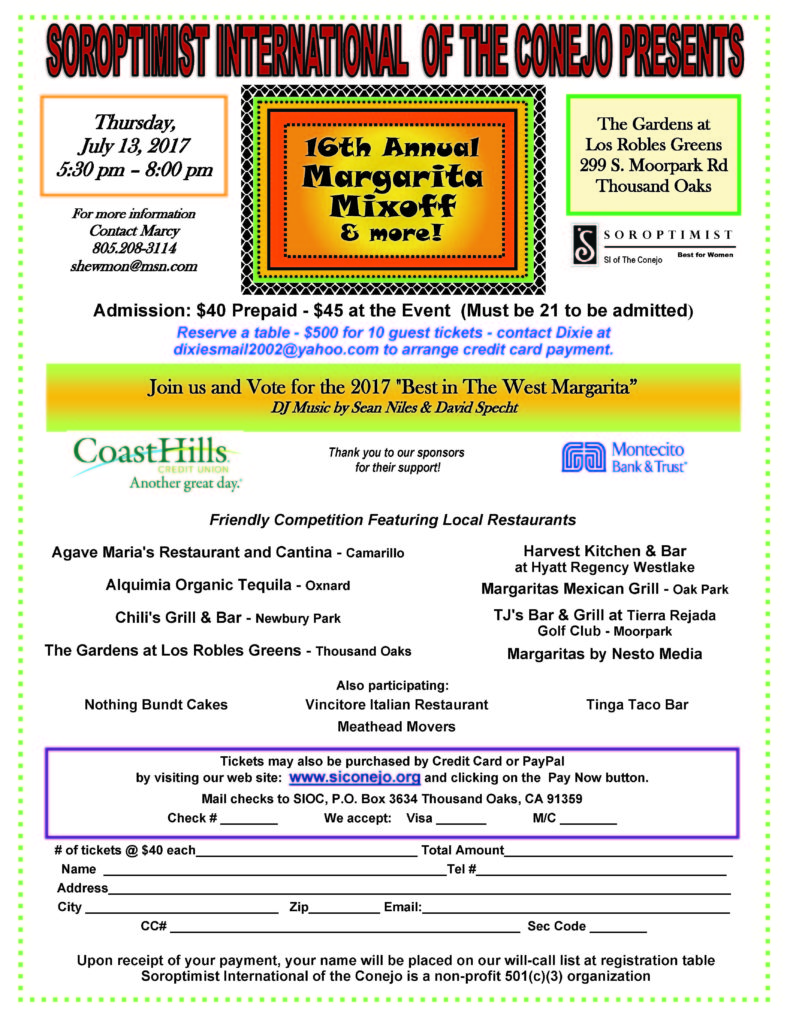 Tickets are $40 in advance and $45 at the door.  Non-alcoholic beverages will also be available.  Attendance is limited to those 21 years of age and older.
You can order your tickets on line by Credit Card or via PayPal at: www.siconejo.org
For information, contact Marcy (805) 208-3114, shewmon@msn.com.
Checks or credit card information can also be mailed to SIOC, P.O. Box 3634, Thousand Oaks, CA  91359.
The wonderful restaurants in this year's Margarita Mixoff include returning participants & some new ones:  Agave Maria's Restaurant & Cantina, Camarillo; Alquimia Organic Tequila, Oxnard; Chili's Grill & Bar, Newbury Park; Harvest Kitchen & Bar at Hyatt Regency Westlake; The Gardens at Los Robles Greens, Thousand Oaks; TJ's Bar & Grill at Tierra Rejada Golf Club in Moorpark; Margaritas Mexican Grill in Oak Park; Margaritas by Nesto Media;  Also taking part are Nothing Bundt Cakes, Vincitore Italian Restaurant and a Tinga Taco Bar.  There will be a fabulous array of raffle and silent auction items that are guaranteed to strike your fancy and will be up for bid.
For those who enjoy some of the Conejo Valley's best Margaritas, great food, and a fun evening under the stars, the 16th Annual Margarita Mixoff and More, presented by Soroptimist International of the Conejo, will be just the thing to fit the bill for a good time.
The proceeds from Soroptimist International of the Conejo's 16th Annual Margarita Mixoff & More fundraising event will support our Award Programs, which includes the Live Your Dream Award.  The Soroptimist mission is "improving the lives of women and girls through programs leading to social and economic empowerment."  Last year, through our award programs, SI of the Conejo gave over $11,000 to six organizations and a cash grant to our Live Your Dream Award recipient.
Soroptimist is an all-volunteer service organization whose vision is that women and girls have the resources and opportunities to reach their full potential and live their dreams. We are a 501(c)(3) non-profit organization.