On March 8, 2018 Soroptimist will hold its 11th Annual STOP Human Trafficking Community Awareness Event.
Last year, on March 8, 2017, members of seven local Soroptimist International clubs participated in an awareness walk in Ventura to bring attention to human trafficking and its victims.
This was the 10th year that Soroptimist clubs have held a march, followed by a forum to address the topic on both a global and local level.
Clubs from Oxnard, Camarillo, the Conejo Valley, Ventura, Santa Barbara, Simi Valley and Fillmore took part in the 2017 Event.
Speakers at the forum addressed what local citizens can do to recognize, report and combat sex slavery and help its victims.
Local officials included Ventura County Supervisor John Zaragoza, Ventura Mayor Eric Nazarenko, and Supervisor Kelly Long's aide, Matt Guthrie.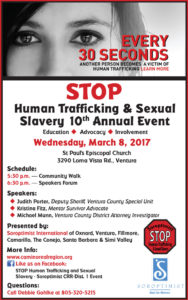 Speakers at the 2017 event were:
Judith Porter, Deputy Sheriff, Ventura County Special Unit
Kristina Fitz, Mentor Survivor Advocate *
Michael Munn, Investigator, Ventura County District Attorney
*Note:  SI of the Conejo selected Kristina Fitz as our "Live Your Dream" award recipient for 2017!